The 30 Second Explanation
In 1969 Ian L. McHarg published, Design with Nature. This classic town planning book was essentially a step-by-step graphic overlay style instruction manual about how to access a region (big or small), in physical planning terms, and to determine appropriate land use uses that would endure and have long term sustainability.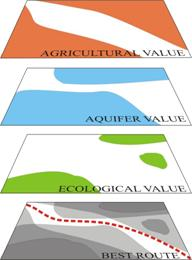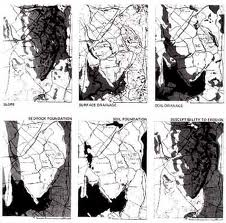 The book promoted an ecological view, in which the designer becomes intimately familiar with an area through analysis of key aspects such as vegetation cover, soil, climate, hydrology, etc. Design With Nature was the first work of its kind "to define the problems of modern development and present a methodology or process prescribing compatible solutions". McHarg's philosophy is broadly about an ecological sensibility that accepted the interwoven worlds of the human and the natural, and sought to more fully and intelligently design human environments in concert with the conditions of setting, climate and environment.
Related Thoughts
Biodiversity; Carrying Capacity; Green Belt; Landscape; Over Development; Structure Planning; Views and Visual Analysis
Biographies
Ian L. McHarg ( November 20, 1920 – March 5, 2001 ) was born in Clydebank, Scotland and became a landscape architect and a renowned writer on regional planning using natural systems. He was the founder of the department of landscape architecture at the University of Pennsylvania in the United States. His 1969 book Design with Nature pioneered the concept of ecological planning. It continues to be one of the most widely celebrated books on landscape architecture and land-use planning.
References
Design with Nature Ian L. McHarg 1969 ISBN 0-471-11460-X
 PLANNERS NORTH, Town Planners, Northern Rivers, NSW